Last week, Alpaca VC hosted our first (of many) Expert Roundtables. This is a new panel series that focuses on a different department (Marketing, Operations, Product, etc.) and industry (PropTech, Consumer, B2B Marketplaces, etc.) each time. We plan to host these Expert Roundtables bi-monthly and use advisors within our network. These conversations are meant to open up conversations between experts in their industry and founders/senior operators.
For our first Expert Roundtable, we invited Business Development leaders Kristin Thayer (Head of Partnerships/Sales at 1stDibs), Adam Landsman (VP of Business Development at Clear), and Imran Patel (VP of BD at Quip). We delved into evangelizing partnerships, developing proper shared goals and strategy, scaling teams, and tools our experts use on a daily basis.
All three of these executives come from Alpaca VC's Expert Network, which is a curated group of senior operators that advise our portfolio company founders across different departments and industries.
Check out the video recording of the event below and read through our experts' key points. If you want to be notified for our next event, subscribe to our newsletter.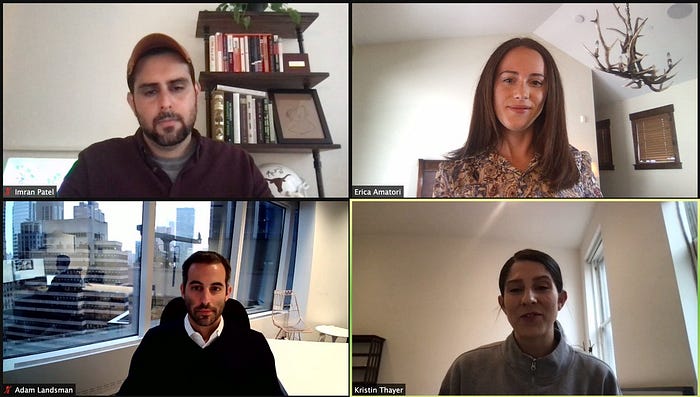 VIDEO GOES HERE – https://cdn.embedly.com/widgets/media.html?src=https%3A%2F%2Fplayer.vimeo.com%2Fvideo%2F505444424%3Fapp_id%3D122963&dntp=1&display_name=Vimeo&url=https%3A%2F%2Fvimeo.com%2F505444424&image=https%3A%2F%2Fi.vimeocdn.com%2Ffilter%2Foverlay%3Fsrc0%3Dhttps%253A%252F%252Fi.vimeocdn.com%252Fvideo%252F1045924032_1280x720.jpg%26src1%3Dhttps%253A%252F%252Ff.vimeocdn.com%252Fimages_v6%252Fshare%252Fplay_icon_overlay.png&key=a19fcc184b9711e1b4764040d3dc5c07&type=text%2Fhtml&schema=vimeo
Question 1: What are your greatest current challenges within this role?
Kristin Thayer: Getting customers and vendors comfortable with the platform. For example: 1stDibs represents high net worth collectors, interior designers, and other high-value industries. What's needed is extreme trust throughout the platform and the correct demographic/customers.
Adam Landsman: Figuring out how to most effectively and efficiently sell to people at home. These times have changed us for better or for worse. The impact of COVID has been needing to alter pitches to fit the new environment we're in today. For example: Clear recently launched a new arm, Health Pass, due to the current situation so privacy and safety can be leveraged by airports and customers.
Imran Patel: Facing the pull-and-tug between the company's core product and the growth within digital services. Questions that Imran from Quip tries to ask are: "Which area of the business do you put more resources and human capital into? How does your team create clear expectations for what success looks like and track that over time?"
All panelists agree that the biggest challenge is hiring. Speaking of which, all three companies are hiring (especially Clear!). Go check out their career pages, as they need to add to their Sales and Partnerships teams.
Question 2: What has been your experience scaling your team and interacting with other departments within the company?
Adam Landsman: Scaling is necessary, yet difficult because when decision-makers say it's time to scale, the company is most likely already behind the 8 Ball. Sometimes, quality can suffer when your team is racing to hire new employees, so you need to set appropriate expectations and fulfill a hiring roadmap beforehand. Make this clear with the founder or higher-up of the company.
Adam Landsman: At Clear, he pushes his team to spend a small portion of their day recruiting, looking at their network, and suggesting potential candidates. They have 100+ roles to fill and strive for quality. On top of this, Clear incentivizes (i.e. you'll receive a bonus if the person you recommend is hired). Adam said, "You might have one person who is 'the best,' but at the end of the day, it's only one person. You can't scale with one person, so you need to look for another best person or second-best person to add to the team."
Imran Patel: When interacting with other departments, these experts ask, "What is the nature of the market we are in?" and "What is the nature of the market we're going into?" Imran stated that 80% of Quip's revenue is distributed through multiple channels, so he tries to supercharge his team with the help of other departments.
Question 3: How do you drive change within your organization? How do you make your team adapt?
Kristin Thayer: Make sure everyone knows how they roll up into the greater goal of the company; whether it be through an OKR framework, or something similar. Transparency is key when it comes to driving change.
Imran Patel: As your company is adapting and evolving, ask yourself as a leader if all of these things fit together. If they don't, do things really need to change? Sometimes it's good to play devil's advocate. Don't necessarily get caught up in all the new shiny things (ie. the opportunities Quip has to move into adjacent spaces).
All panelists agree that it's important to specify specifically how the change will benefit the team, whether that is time saved or easier collaboration. After you're done presenting the new solution, ask for feedback. It's easier to give feedback than receive it, especially if this "new change" is something you have been working on for a while. All team members should have each other's best interests in mind.
Question 4: Which sales tools & technology does your team use? How do you get feedback from your customers and clients?
Kristin Thayer: 1st Dibs provides a platform and a space where representatives can relay the feedback they've received from customers. A streamlined way to understand what customers love and what they think could be improved, and it's an outlet for representatives to feel heard too.
Adam Landsman: Clear uses a platform called Medallia.com and has enjoyed their experience thus far. These are quick NPS surveys (1–2 questions) that customers can easily fill out (ie. how was the experience, would you recommend to a friend, etc.).
All panelists use Salesforce and try to find new tools that optimize email sorting. When you're in Business Development, remembering to follow up or actively pitching can get messy.
Question 5: How do you incentivize your team?
All panelists said: Keep it simple! Incentivize people to do exactly what you want them to do and don't create 10+ different incentive structures or goals. Stay away from making it a complicated incentivization structure and opt into making it straightforward. It's also important to be clear on what good and bad performance is. No salesperson wants to ask if they're doing a good job. It should be blatantly obvious. Your team should know every month where they are and how you are doing compared to the main goal.
Want to sign up for our next event on February 17th that discusses 'The Dynamics of Virtual Communities' with panelists from Alpaca, BBG, Harry's, Lex, and Antler? RSVP here.
Want to be notified for our next events and Expert Roundtables? Subscribe to our newsletter.
To keep up with the latest from Alpaca, connect with us on Twitter, Instagram, and LinkedIn @alpacavc, subscribe to our bi-weekly newsletter The Rundown here, or by reaching out directly to [email protected].
Disclaimer:
Alpaca VC Investment Management LLC is a U.S. Securities and Exchange Commission-registered investment adviser. Alpaca VC Investment Management LLC is committed to diversity and inclusion in the workplace. We prohibit discrimination and harassment of any kind based on race, color, sex, religion, sexual orientation, national origin, disability, genetic information, pregnancy, or any other protected characteristic as outlined by federal, state, or local laws.