By Aubrie Pagano. This Op-ed originally appeared in Glossy
Live is nothing new. "Saturday Night Live" is one of the most successful shows of all time. It's aired live for 45 years and is broadcasted in over 200 countries. Its alumni are unmistakable, grossing over $70 billion at the box office. So, what is the secret to its successful sauce? I would argue that "SNL" is a well-oiled comedy machine, with 1) a time-tested content formula consisting of practiced sketch comedy and 2) an incredible scouting apparatus for talent. (Lorne Michaels famously spotted Chevy Chase waiting in line for a movie and asked him to audition.) On top of the machine itself, the spontaneity of the show is exciting and engaging. There's an element of suspense in the live format — of "anything can happen live" — executed with finesse by talented improv actors from the likes of Second City and LA's Groundlings.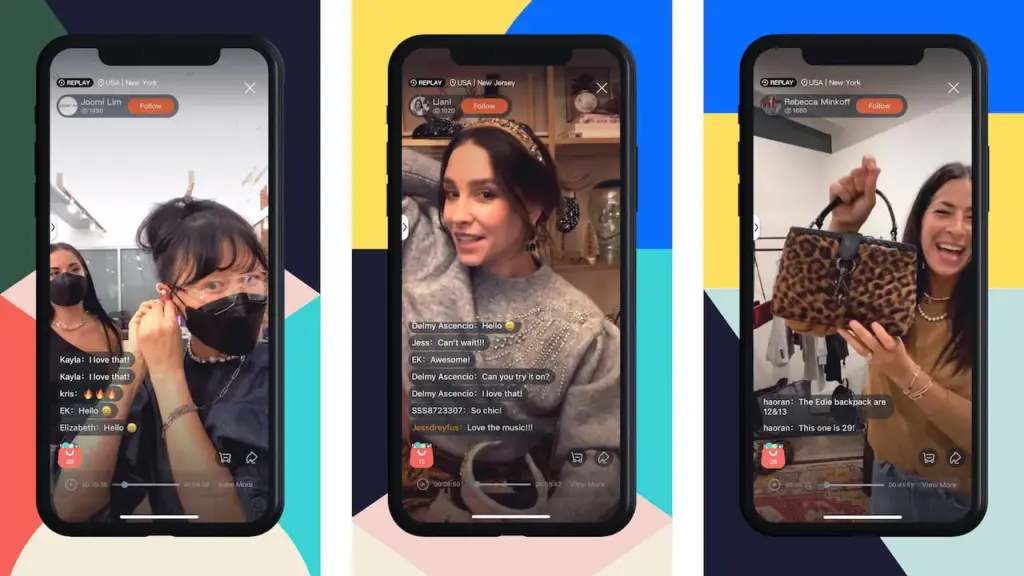 One could argue the same goes for live commerce. Similar to "SNL," success for live commerce lies in a few key ingredients:
Great content
A recruitment system for hiring and training hosts
Synchronicity
Let's dive deeper into each of these in this post.
But first, what is live commerce?
Put simply, live commerce is any live video distribution channel that seeks to "recreate, replace or reimagine the energy of in-person shopping," according to Vogue Business. This includes video shopping through 1-to-1 appointments with stylists, as well as 1-to-many broadcasts with hosts encouraging impulse purchases of hard-to-get items at hard-to-beat prices. Live commerce is huge internationally. In China, two-thirds of consumers have bought products via livestreams by platforms like JD.com, Pinduoduo, Duoyin and TaoBao, the latter of which did $61 billion in live commerce transactions in 2020 alone. Set to approach $300 billion this year, China's live commerce market is growing exponentially, with the largest categories being snacks, apparel, and skin care.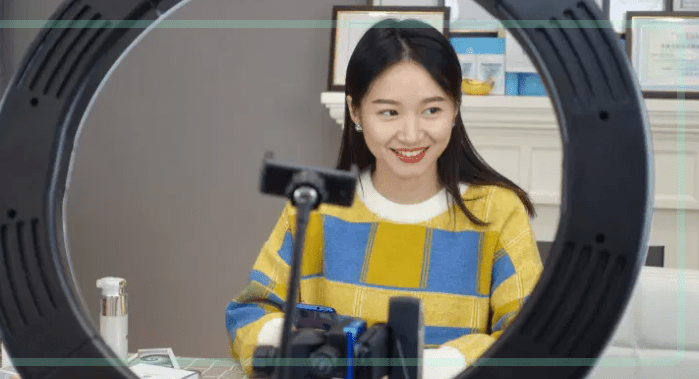 The U.S. has been slower to adopt live commerce, transacting some $11 billion this year. For one, U.S. consumers aren't nearly as used to shopping from mobile devices as their Asian counterparts.
Well put by Bertelsmann Digital Media Investments in a recent report, "China's primary business model for internet companies has historically been transactional, whereas U.S. companies have relied on ads. As a result, media formats in the U.S. have tended to skew towards long-form video and images, as advertising was more difficult to crack in live formats. In China, however, livestreaming evolved much earlier, given user's ability and willingness to pay directly for influencer content, as well as the payment integrations/infrastructure to do this seamlessly. As U.S. media shifts towards business models outside of advertising (commerce, tipping, subscription), livestreaming becomes a more interesting and revenue-generating segment. In addition, with more commerce and entertainment consumption shifting online due to the Covid-19 pandemic, familiarity with streaming and viewership has followed."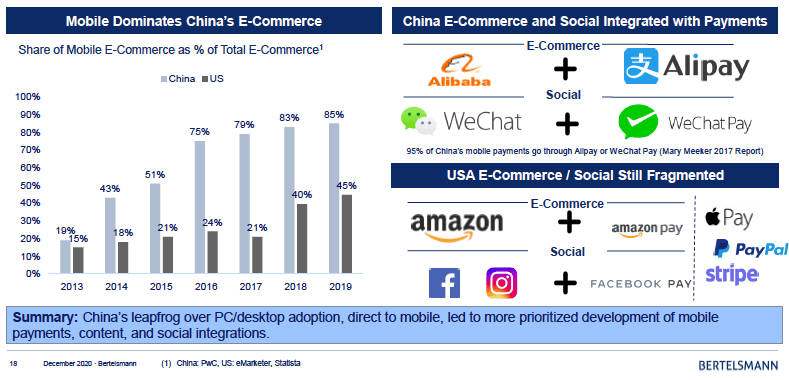 All this being true, macro tailwinds are propelling the internet toward more synchronicity, or live media. Platforms including Twitch, Clubhouse, Instagram and OnlyFans offer communities and, especially for younger audiences, live shared experiences built on engagement, gamification and social interaction. As a growing number of marketing dollars are moving toward influencer marketing and streaming, it is only a matter of time before consumer appetite for live commerce ramps in the U.S.
Investors believe this also. There have already been some big bets in the space, including investments in PopShop, WhatNot, NTWRK and ShopShops. VC funding in the space totals over $133 million, with a bulk of those dollars coming into the ecosystem in the last 18 months. Deals include:
So what will make live commerce successful in the U.S.?
Let's revisit our "SNL"-themed best practices to understand how brands, creators and marketplaces can deliver superior shoppable entertainment.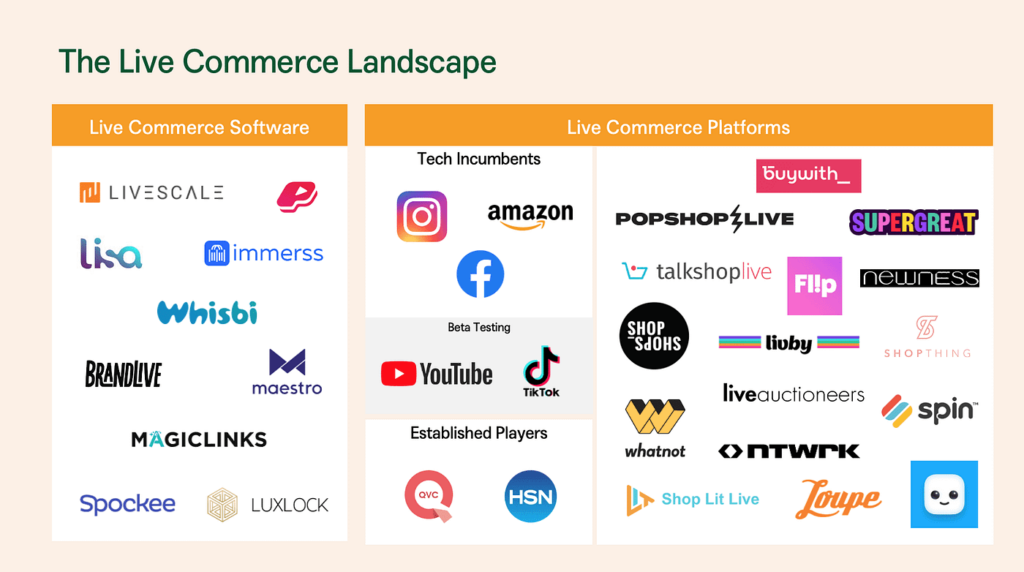 Great content
Just like any other medium, live commerce is only as good as its underlying content. And just like "SNL," which developed a playbook for great sketch comedy, winners in live commerce need to deliver exceptional content for the live medium. There are a few themes to delivering great live content:
Creating scarcity. People are not compelled to buy something live that they can get anywhere else, at any time. Instead, live commerce works exceptionally well when there is risk of the product selling out and/or the product is not sold in other channels. For this reason, many sites actively show how many units are left in stock so the buyer can watch supply dwindle. In other words, FOMO drives conversion. This is also the reason why NTWRK has worked with streetwear drops and why WhatNot offers lots of limited-edition toys and collectibles. They are in shorter supply than the demand.
Accessible price points. Live shopping is similar to e-commerce, where the average AOV is not higher than $100. This means merchants need to think about the accessibility of the featured items, and/or the discount rate at which the items are being offered. An effective strategy is offering flash sales, where products are available for a limited time at a special price. (I like to think of live commerce platforms, like ShopThing, as the next-gen Gilt Groupe.)
Targeted product assortment. For each show, shoppers need to know what kind of products they'll expect to see. As such, it is important to establish a product category per show, where a shopper can rely on access (e.g., collectibles, sneakers, handbags, designer sample sales, etc.)
Discovery vs. curation (and local vs. category). It is also important to train the shopper to understand what kind of show the live stream is: Is it a show about discovering new brands and products (e.g., "shop India" or "shop downtown Las Vegas"), or is it a show about gaining access to a special creator or designer?
Ultimately, it's entertainment. In China, livestreamers tell dirty jokes and sing karaoke. On other apps, you can tell the host to feed a fish in the pet store and they'll do it live. It's all about engaging content and keeping the shopper enthused for long enough to convert.
A recruitment system for hiring and training hosts
Just like on HSN and QVC, the host drives the tempo and sell-through of the show. If you've ever filmed on one of these channels (which I perhaps, unfortunately, have!) you know that the hosts have two audio streams, one in each ear. One voice tells them which camera to look into, and the other is feeding them information about which SKU to push more, what has sold out, etc. It's actually really impressive how well they maneuver the time on television with a smile, and it goes to show that a well-trained and likable host can make all the difference. It is no different in a mobile livestream context.
Branded personalities. Each platform has its own unique voice, audience and personality. The hosts of each show should reflect that attitude in their tone, voice and expression, so that no matter when you're tuning in, you feel you're watching the same app.
Superior hiring and training. To create great hosts, some brands have created sales training programs and curricula, in the same way that retail stores or Soul Cycle have created detailed training programs. Others have hired directly from sales floors, where staff members are already trained to sell and serve customers. Still, others are hiring influencers, celebrities and athletes, among others, who can draw their networks to the platform and shortcut acquisition.
Synchronicity
As mentioned before, what made "SNL" so much fun to watch was the improvisation of the entertainment, as well as the "anything can happen" excitement that naturally occurred. It takes effort to achieve that effortless improvisation, and planning.
Live and scheduled. The key to live commerce is obviously the excitement of the live show and sale, but it's also important that customers are reminded of when a show is happening. Therefore, creating a proper scheduling cadence and reminder flow is important. The worst thing would be for someone to enter the platform with nothing to watch and nothing to look forward to.
Social. The fun of live shopping is the ability to interact with hosts and other audience members, so it's important to address buyers' questions right away. Often there is a staff of several people answering questions as the host goes on. As these platforms scale, more customer engagement occurs, so CX is an increasing cost center and focus.
Bandwidth. Little has been shared about the scaling issues associated with livesteams. It's expensive to host live content, and it's also hard to scale up and down quickly. Proper infrastructure is required but hard to achieve consistently.
Is there room for more live commerce?
As discussed, there has been significant funding into the live commerce vertical to date, with companies spanning many industries and sellers. That said, there are still areas of opportunity in live commerce. I identify a few below:
Product categories that have yet to break out:
Luxury fashion is a good use case for driving scarcity where brand affinity has already been earned. Similar to the old flash sale model of Gilt Groupe and RueLaLa, there is white space for live commerce to create deep discounts and frenzy around the ultimate deal.
CPG, specifically snacks and other e-grocer category leaders, are not yet dominating in the U.S. the way they are in China.
Larger goods, like cars or even real estate, could be sold via these platforms where interactivity and live video present a more in-depth product investigation experience.
Tech enablement for brands to host live commerce:
Brands including Nordstrom and Home Depot have already experimented with livestreaming, which "helps brands and retailers build direct, social and meaningful relationships with their customers," according to the National Retail Federation.
Building this tech in-house can be difficult and costly, given the bandwidth constraints that exist for streaming as well as the development time. Powering live commerce for other brands is an exciting prospect, as it could drive down the overall cost-to-serve while creating a self-serve tool for marketers to experiment.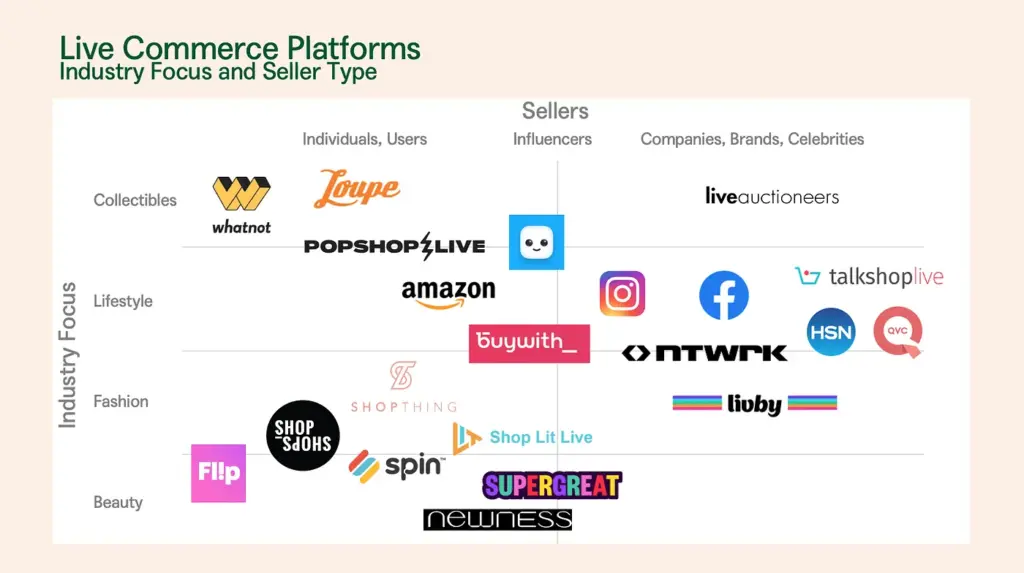 Aubrie Pagano is a general partner at Alpaca VC investing in consumer and next-gen commerce. If you're an amazing founder working in this space, you can DM Aubrie here.
To keep up with the latest from Alpaca, connect with us on Twitter, Instagram, and LinkedIn @alpacavc, subscribe to our bi-weekly newsletter The Rundown here, or by reaching out directly to [email protected].
Disclaimer:
Alpaca VC Investment Management LLC is a U.S. Securities and Exchange Commission-registered investment adviser. Alpaca VC Investment Management LLC is committed to diversity and inclusion in the workplace. We prohibit discrimination and harassment of any kind based on race, color, sex, religion, sexual orientation, national origin, disability, genetic information, pregnancy, or any other protected characteristic as outlined by federal, state, or local laws.