By: Aubrie Pagano + Naomi Goez
Just when it seemed like it couldn't get any harder for brands to find and keep customers, the FTC proposed a bill two weeks ago that would potentially prohibit marketers from creating auto opt-in marketing flows on their website. It's not an over-statement to say it's been a bad few years for marketers.
A quick history of brand marketing in the last three years:
A bat. Covid. 11% of global goods stuck in port
Apple releases iOS 14.5 and gives users the option to block activity tracking, and unsurprisingly, only 5%-15% of global iPhone users opt out.
Third party data dies.
CPM's sky-rocket as high as 185% YOY.
$500B of excess inventory ensues.
Congress threatens to ban TikTok, one of the only discovery arbitrage channels left.
SVB collapses and no one wants to invest in brands anymore.
Hi, hello, it's April 2023.
I thank the stars every day that I was not building my brand over these last years. I also wonder how brands will continue to find customers as the cards stack against them. This watershed moment in e-commerce history is where our first ever Brand Discovery report sprang.
As a commerce investor, I spend much of my time studying the evolution of omni-channel retail and investigating what software tools to equip small and mid-market brands with to succeed. This report is an attempt to reveal much of that research and insight at a time when discovery is a critical challenge to overcome.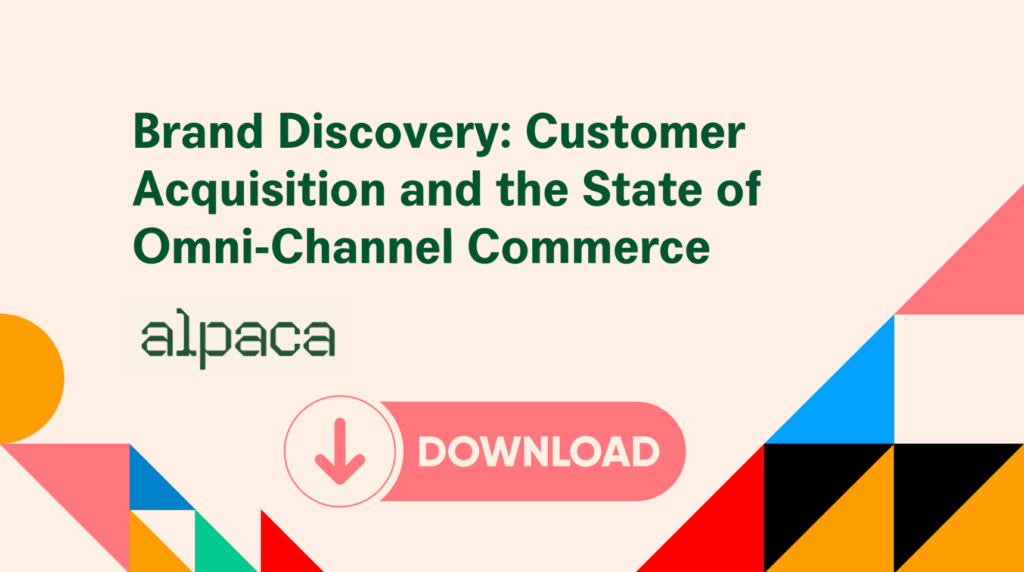 I worked with the immeasurable Naomi Goez, my Wharton MBA Associate for whom no task was too great, to survey and interview over 100 brands, digital marketers, SEO and PR agencies in order to ask the fundamental question: How do we solve Brand Discovery?
Through this research we identified the areas most significantly impacted by the macro environment, noted the ongoing shifts in consumer behavior, and explored best practices that brands can take away.
Why Is a Market Pulse Check Critical?
Today's consumer experiences a fragmented discovery landscape with variable pain points across the marketing funnel, and brands are left to fight for eyeballs, hoping to repeatedly engage with the right audience. It is time to figure out what is working and what isn't, particularly for small and medium sized businesses whose marketing dollars must be carefully allocated with very little room for error.
Cracking the code on brand discovery means addressing the ~$29 brands are currently losing per new customer. This decline in efficacy is driven by three forces simultaneously at play: rapid and consistent omni-channel growth, evolving consumer behavior, and regulatory changes.
Blurred lines between social, commerce, and media are catalyzing the expanding $5.9T e-commerce industry and accelerating the growth of the $2.9T social commerce business, making the barriers to entry lower than ever before and resulting in a hyper saturation of brands.
Consumers' engagement with brands is increasingly intertwined across offline and online, evident in behaviors such as considering reviews prior to purchase (93%) and using phones for price comparisons while in store (28%). This reliance on establishing an authentic digital and physical presence is critical to establishing trust and driving conversions. All that said, it is costly and difficult to "get it right".
Tightened regulations around collection and use of third party data (The General Data Protection Regulation and the California Consumer Privacy Act) are forcing companies to rely on zero and first party data, and setting the stage for the skyrocketing cost of digital advertising, evident in Meta, TikTok, and Google increasing their CPM (cost per thousand) by 61%, 185%, 75% year over year respectively.
Dissecting the Landscape: How Do Consumers Currently Discover Brands?

In order to create a consistent framework for talking about discovery, we first set out to define the universe of ways in which customers discover brands (or put conversely, the way brands pay in time or money to reach people). These channels are broken out above, with a delineation of pure play versus multi-channel strategies. We have highlighted in RED the key strategies we focused on for the survey as well as our qualitative interviews.
As suspected, each piece of the puzzle comes with its unique set of challenges, and the solutions are more of an art than a science, with the secret being understanding which strategies are most applicable to your current distribution channels. In this piece and in the full brand discovery report (below), we share our learnings by strategy.
Search Engines
Evolving consumer behavior around search has sparked debate in the marketing community about the efficacy of having a robust, paid search engine strategy. An estimated 40% of Gen Z preferes to discover information on platforms other than Google, including TikTok and Instagram. Whether it is news related or finding a place to dine, it seems that Google is competing with others on all fronts, and despite its attempts to incorporate video and AI, Google will have increasing competition ahead. Preferred search platform aside, we believe search engines remain important in two key areas:
1. Reviews and product/ price comparisons: An estimated 68% of shoppers will Google a product before purchasing, and as mentioned earlier, we know that 93% report reading reviews prior to making a purchasing decision. While these statistics may not be as relevant to top of funnel, they play a role in a larger omni-channel strategy.
2. Establishing credibility: Even if a consumer first interacted with your brand on social media, your website presentation has the power to influence their understanding and perception of your company — was it a top result? Is it associated with interesting articles, blogs, research that reinforces your superiority? For this reason, even in a fragmented search environment, understanding how to stand out across multiple platforms may be helpful.
As discussed in this section, our survey results suggest that SEO remains important to brands' customer acquisition strategies and their best practices are shared below.
Keeping Up with SEO
While 75.1% of all clicks go towards the top three Google search results, a seemingly unattainable ranking in today's digital chaos, we learned that there is a worthwhile game to play after all. Interestingly, only 18% of survey respondents have experienced a decline in the efficacy of website SEO in the last 12 months, which is indicative of the success of three key SEO strategies: content updating, term selection intentionality, and demonstrating experience.
Firstly, we learned that updating website content can help improve search engine rankings and therefore top performing pages require regular upkeep to maintain information relevance and accuracy. The same can be said for blogs, which are estimated to increase traffic by 55% and should therefore be up to date. This is particularly important as blogs present an opportunity for higher conversion with 61% of online shoppers reporting they have made a purchase influenced by a blog recommendation.
Secondly, we validated the dominance of international optimization, with 90% of SEO agencies surveyed reporting it as a focus and 100% also optimizing for branded terms. The former, International SEO optimization, means optimizing a website to show up on international search engine results based on target countries and language. This is done primarily through country targeting with an international friendly URL structure, language targeting with language tagging, and content maintenance. The latter, branded terms, was aptly named to suggest the choice of words or phrases associated with one's brand. SEO automation will continue to grow as teams leverage software that enables quick execution of SEO related tasks. These include, but are not limited to, keyword research tools, website graders, and site auditing, which help identify relevant terms by category, shed light on optimization opportunities, and detect changes and issues respectively. A few examples include Twinword, learners.ai, and ContentKing.
Finally, we heard the importance of the recent rebranding of the well-known E.A.T (Expertise, Authority, Trust framework used by Google to evaluate content) to E.E.A.T in December 2022, adding Experience to the mix. To make sense of this alphabet soup (no pun intended), what you need to know is that "E.A.T" is a quality evaluation framework embedded into Google's Search Quality Rating Guidelines, and while it is not a direct rating factor or algorithm, it impacts the algorithmic ranking. It was established to help promote the most relevant and trustworthy content created by experts and published on an authoritative site. Adding the second "E" to the framework makes it sensitive to the creator's demonstrated experience. This audience first (unlike a traffic first) approach will promote creators whose content is aligned with their real-world experience and is relevant to their thematic focus. To take advantage of this, a creator (or brand) should display a bio and link other social platforms.
The TLDR on PPC Ads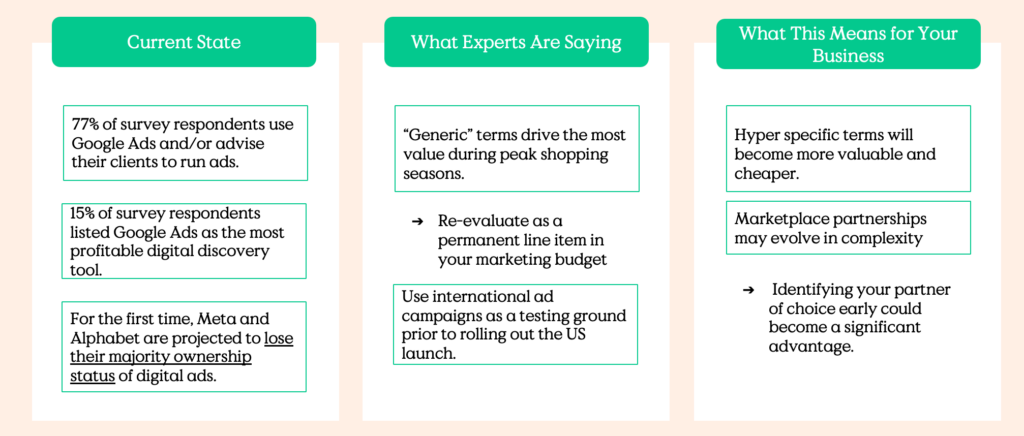 For the first time, Meta and Alphabet are projected to lose their majority ownership status of digital ads, facing competition from TikTok, Amazon, Walmart, Target, Apple, and other streaming services. This threat to ad dominance presents an opportunity to use hyper specific terms that reference niche industries or categories, as they will become even more valuable and less expensive.
According to ex-Googlers, "generic" terms drive the most value during peak shopping seasons, but should be re-evaluated as a permanent line item in your marketing budget. For example, during peak ski season, winter and ski related terms should be used given the increased traffic, but will lose significant ROI otherwise, as higher bidders will always get preferential treatment by the platform, with fewer clicks across the board. This means that, just like your website and blog content must get updated regularly, your PPC keywords should be evaluated for performance and changed seasonally. Similarly to the SEO optimization strategies, AI-powered solutions are gaining popularity in the keyword search tool space, with users leveraging ChatGPT for this task.
Gaining Quality Traffic Using AI
Companies are getting more comfortable with the integration of AI across a larger set of functions, with McKinsey estimating the average AI capabilities used by organizations has doubled from 2018 to 2022. Aside from AI powered chatbots, which have become commonplace over the past few years, we are seeing brands leveraging AI for 4 key needs: The creation of personalized and interactive experiences, payment fraud risk management, demand forecasting, and dynamic pricing. Further, standard shopping campaigns are shifting to AI powered tools, such as Performance Max, where users can indicate specific goals, including new customer acquisition, tailored to bid against each business's preferences. This strategy is applicable to both B2B and DTC, and according to a recent article by RetailDive, both types of businesses have seen success implementing AI-powered ads and shopping campaigns, with one French delivery service reporting an 85% increase in sales revenue.
Does this mean that staying ahead of the curve necessitates implementing an AI-powered campaign? Maybe. We believe that the key to winning will be properly identifying seasonal business needs to deploy the appropriate tech, from natural language generation to integrating first party data with merchandising plans. A few notes to keep in mind:
1. Personalization and customization have been talked about for several years, and they are not going anywhere, with 80% of customers wanting personalized experiences from retailers. Addressing this consumer expectation goes beyond product recommendations based on purchase history, and begins with the type of ad or social media post the consumer first interacts with as well as the search result that leads them to you.
2. Content generation tools will compound your ability to produce and post, but a human touch still may be needed. Further discussed later in this report, authenticity is still a critical element to the success of social media campaigns and can only be created when real people connect with real people. AI writing tools will significantly decrease the amount of time spent on generation but the output must be reviewed and revised to match your brand's "voice". The opportunity to be more hands-off in relying on said tools lies in product tagging and in identifying highly ranked content to improve SEO.
3. As discussed at the beginning of this section, ongoing debates of the importance of search engines in a fragmented search world shed light on the evolving patterns we are seeing across younger demographics. This may also play a role in your marketing budget plans — perhaps this is an area informed by strategy (i.e., updating your blog posts) and less so by the purchase of a new suite of SaaS tools to overhaul your current operation?
Paid Social Media Strategy

Paid media, which includes paid social, is a permanent line item in most marketing budgets, accounting for 2.5%-3.3% of total brand revenue. With the vast majority (91.4%) of surveyred brands using this strategy consistently, there is significant reliance on this channel: 41% of brands report it as their primary traffic driver. Intersecting consumer behavior trends with data from our survey sheds light on the importance of navigating the paid social marketing waters, most notably:
40% of consumers who claim to have made a purchase due to the influence of social media
49% claim they made a purchase influenced by a content creator
59% of survey respondents generated a first time sale using social media giveaways
46% of survey respondents generated a first time sale through content creator collaborations
Influencer Marketing Requires More Nuance
The success of influencer marketing in the early days was rooted in the audience's trust in the authenticity of content created by the "underdog" — real people with traditional jobs who simply shared their lived experiences online, replacing the celebrities who were getting paid big bucks to sell products they have never tried. This has since then been replaced by the inability to relate to the often "out-of-touch" narrative told by content creators flaunting their discretionary income, and has shifted the nature of this strategy from casting a wide net of content creators, to selecting narrower, more focused plays:
Product samples can be cheaper than ads: identify influencers who use similar products to yours and offer to send them samples.
Identify current customers who have a following and cultivate a relationship.
Consider retaining your top talent and incentivizing them to share consumer insights from their platforms by adopting alternative compensation models, such as advisor fees and equity, as discussed by leading brand strategists such as Wild Womn Haus.
Encourage creative input from your talent to generate content.
Double down on partnerships that work: Bigger brands have been forming deeper, expanded partnerships with content creators for a few years, demonstrating that one successful partnership is more important than a wide set of one-time campaigns with multiple creators. (i.e. Dunkin Donuts x Charli D'Amelio, Kiss x Meredith Duxbury lashes.)
Organic Social Media Strategy: Non-Selling Selling
Aside from the paid component of social media, developing an organic social media playbook remains an important focal point for brands looking to establish a community based flywheel of growth. Today's consumer identifies with a multi-dimensional profile and therefore prefers to interact with brands who can tell a holistic story alongside authentic commentary on pop culture.
Our Industry Observations:
Top of funnel engagement has become an opportunity to tell your brand's story, without actually talking about your product.
Unless your product necessitates a demo, your capital is better spent on letting your customer into your brand's world than on a product-centric message.
Each social media outlet serves a slightly different purpose and has a dedicated audience with hyper specific expectations, and for this reason, they may or may not be ready to convert and it is therefore critical to know your platform. For example, TikTok provides an opportunity to make authentic and lighthearted commentary on pop-culture and showcase the human side of the business, while Instagram should be treated as a digital storefront.
Strategies we recommend:
"Lived-in" and "imperfect" content: no need for perfect lighting or a scripted message, imperfections can make content come across as more authentic and less salesy.
Focus on community: Forbes study found that 75% of Millennials and Gen Z feel like they have a voice within their community, presenting an opportunity for brands to create a sense of belonging, thereby driving engagement.
Founder stories, team stories, a day in the office: humanizing the brand and forming a deeper connection with your fans.
Keeping up with trends and having light-hearted engagement with them (i.e. the brands who were first to get on the "it's corn" phase, Duolingo's April Fools reality TV show are the ones that use this tactic successfully.)
User Generated Content (UGC): The classic example of authentic and lived in. Based on our survey, this is particularly effective for lower price point products and aligns well with influencer marketing using Amazon storefronts.
For additional strategies specifically tailored to the Gen Z audience, you can also refer to a piece I recently published about my conversation with The Digital Fairy.
Brick and Mortar Presence

Moving away from digital to the tried and true OG strategy, a physical store, it is clear that this distribution channel continues to serve as a critical pillar of operations for many. 35% of brand respondents indicate that they operate a brick and mortar location, and 79% of the brands with a brick and mortar location listed their own stores as the highest transaction volume and most profitable channel (13% of total survey respondents) and ranked it as an 8 out of 10 in importance to customer acquisition. From a macro perspective, a PwC survey reported that in person retail remains a top choice at 43%, in line with a few big players' decision to expand their physical footprint, including Canada Goose looking to double its presence and North Face aiming to open 70 North American locations by 2027.
What we did not expect to find is that the key to many brands' success is digital integration to maintain engagement on all channels, meaning they create cohesive offline and online experiences that allow the customer to get to know the brand on multiple levels. This is particularly evident in 50% of brands who reported having their own storefronts also reported having their own app. We have seen this strategy at play with legacy players such as a Scotch & Soda, LOreal, and IKEA, who are motivated by the higher AOV on their app.
A few best practices to think about here:
1. Pay attention to what you are being asked IRL: If your in-person clientele commonly asks a series of product questions, chances are many of them turn to the internet while at your store to figure out the answers. Making sure that the granularity of information available to them and provided by your own platforms online matches your in-store answer, will allow you to control and design a holistic brand experience.
2. Incentivizing offline and online integration can be a strategic way to keep consumers engaged: Could downloading the app while at the store unlock an exclusive product demo? Provide access to a special event? Experiential retail can be a moat to demonstrating your brand's ability to dominate both worlds.
Marketplaces and the Delicate Amazon Game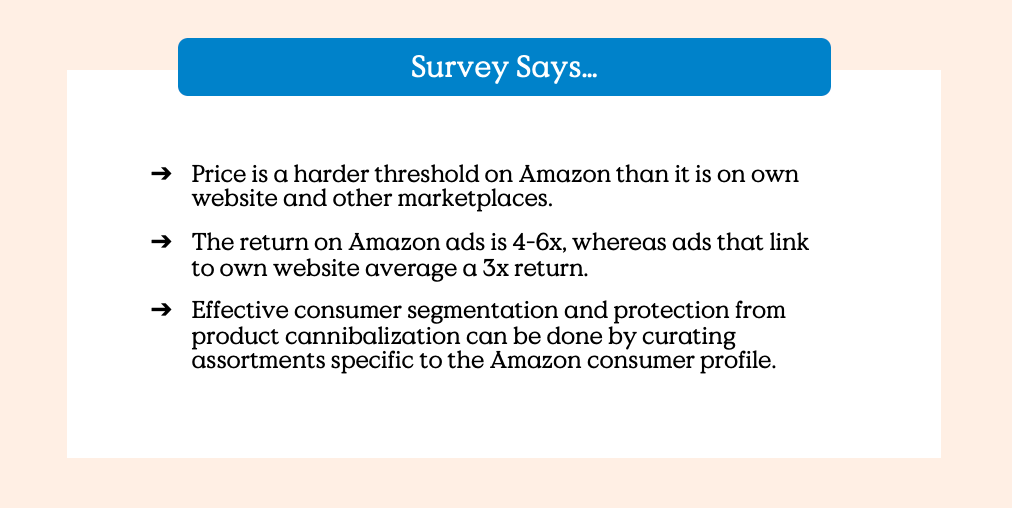 While the majority (63%) of survey respondents have a marketplace presence, only 31% of brands report their marketplaces as a top transaction channel. Unsurprisingly, 13.8% listed marketplaces as the most profitable channel. Those who reported not having any marketplace presence are, instead, doubling down on brick and mortar, seeing healthier margins and transaction volumes there.
Amazon currently accounts for 37.8% of US ecommerce sales, and we all know it to be the proverbial gorilla in the room. 59% of Millennials go to Amazon first when shopping, which reinforces the notion that the Amazon shopper has purchasing intent and is therefore a critical consumer profile to study and design an Amazon strategy after (more below).
Survey respondents shared several learnings:
Price is a harder threshold on Amazon than on owned websites and other marketplaces, suggesting a higher price sensitivity among the Amazon consumer base. This is particularly critical to keep in mind when selecting SKUs for your Amazon assortment, presenting an opportunity to keep the "halo" products only available on the brand's website.
The return on Amazon ads is 4–6x, whereas ads that link to a brand's native website average a 3x return, so once you curate your Amazon assortment based on price point and target demographic, it makes sense to double down on advertising.
Identifying a select assortment of products to list on Amazon based on the Amazon consumer profile allows for effective customer segmentation and protects a brand's website from cannibalization.
Where we see the biggest opportunity:
Dedicated promotions for the Amazon shopper are a highly effective way to drive sales: for example, brands who extend a website wide sale by a day and keep it running on Amazon while communicating directly with a targeted audience experience higher discovery and conversion rates.
Tie it all together — Amazon x Influencer Marketing strategy: Influencers' Amazon storefronts have become popular and effective platforms for top and middle of funnel engagement, further reinforcing the importance of selecting the right storytelling creators for your brand.
The Metaverse
Data suggests a binary approach to incorporating a Metaverse strategy: brands are either completely in or totally out, with the vocal minority of Metaverse believers ascribing high hopes for topline revenue growth using it as a new-age selling surface. Similarly, US adults report a wide range of polarized sentiments where 62% of US adults claim they do not understand the purpose of it, while 38% not only claim to understand it, but also believe it would make life better. However, despite uncertainty and dwindling interest in the current market, the metaverse market is currently projected to reach $679B by 2030, establishing 14x growth from 2022.
Primary categories expected to dominate the metaverse use case include gaming, virtual fitting rooms (forecasted to reach $13B by 2028), and virtual experiences (concerts, classes, travel, fitness). Early stage solutions, such as Agoraverse (seed), are guided by engaged superfans who have been loyal since inception. Alongside those building the "universes", we are also seeing prominent brands continue to innovate in the space, namely Alo Yoga's "Alo Sanctuary" and the H&M Looptopia Experience on Roblox.
Live Shopping and Group Shopping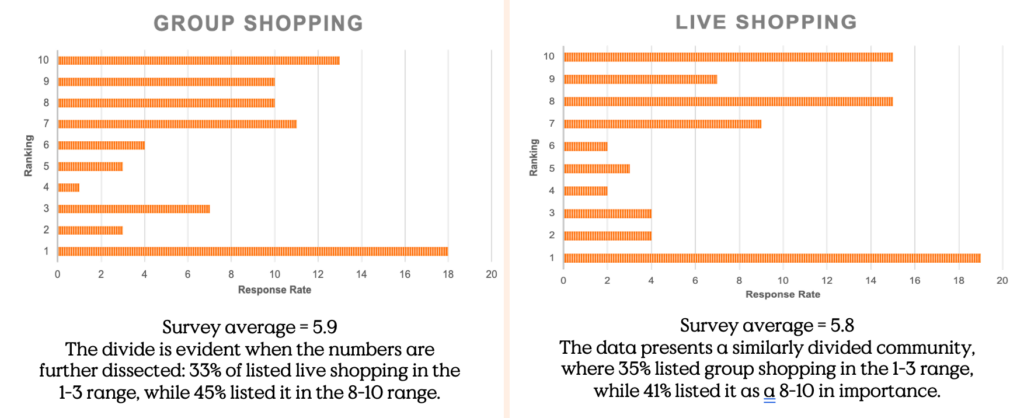 In a world where UX/UI can make or break a product, top of funnel engagement will increasingly depend on a "smart feed" (interest based, interactive content) and commerce-enabled content (posts that enable transacting) in order to address consumers' growing expectations of a friction free shopping experience. While live and group shopping prove to be an unexpectedly polarizing discussion, with two distinct camps across brands and marketers alike, we believe that the intersection of commerce and media is inevitable and will take many forms. Industry leaders are also playing around with the intersection of commerce and content, including Amazon's Inspire, YouTube's testing shopping in Shorts, and the TikTok Shop.
In my former dedicated piece on live shopping, I discussed at length a the elements that make a good live shopping campaign, a brief overview below:
Great content: Accessible price points across a targeted assortment presented in an entertaining way with an element of scarcity (it's hard to resist FOMO!).
Synchronicity: live, scheduled, and social, supported by stable infrastructure to scale up and down as needed.
Thoughtful curation of hosts: Part brand, part high quality training — the host of a live shopping event is the center of making all the moving parts work together and is therefore critical to the success of a campaign.
Will live shopping become a dominant strategy for retailers? Unclear but also unlikely, with the mature Chinese player, Douyin, already positioning itself for stagnation, and internal predictions of live shopping as a whole peaking in the next couple of years (at ~20% of e-commerce sales volume). While we believe that the intersection of commerce and content will prevail and manifest itself in many forms, and that video is here to stay, live shopping may be be an interesting arena for brands with a "drops" strategy, meaningful influencer relationships, and a highly engaged digital community, but may not be a one size fits all outlet.
Group shopping is an older strategy that has surfaced and resurfaced with the popularity of various platforms dedicated to providing competitive prices on desired items, and at the core of it, it has remained a price point play that moves SKUs quickly and widely. Similarly divided, our survey respondents present opposing views on the importance of this strategy to discovery. We believe the opportunity in group shopping lies in: 1. Bundling and localization: Unlocking the value of simplified distribution and logistics by incentivizing customers of the same zip code to place one order, particularly if your distribution exists in more suburban areas with costlier fulfillment. 2. Co-marketing with other brands: discussed in the next section.
Multi-Channel Strategies: Co-Marketing and Partnerships Are Increasingly Important
Today's consumer appreciates being treated as multi-dimensional, rejecting rigid molds that follow gender, age, and racial stereotypes, and rewarding brands who understand their complexity. This further signals the necessary evolution of traditional marketing segmentation, where overlapping interests, professional goals, and lifestyles were not always captured properly. Legacy brands have been using this strategy successfully across a variety of distribution channels producing outsized returns, notably illustrated by the Homesick and Lucasfilm candles, where a non-obvious celebration of Star Wars Day (May 4th) was promoted through a collection of candles. This unexpected product/ brand combination reinforces the unique opportunity to cross product categories to reach a broader audience. While this is not a new concept, in an environment where getting discovered has never been more challenging, spreading your presence across several, adjacent audiences is critical, and success relies on identifying the right complimentary brands while avoiding cannibalization.
So, what does that look like? We believe there are two critical checkboxes to keep in mind in your partner search:
Brands outside of your immediate category.
Brands who promote similar values to yours: Leading with your values should now be table stakes in every marketing strategy, however embedding the newly important nuance of incorporating social/ environmental ethos into your co-marketing campaigns has the power to elevate brand awareness.
The Startup Landscape and Final Thoughts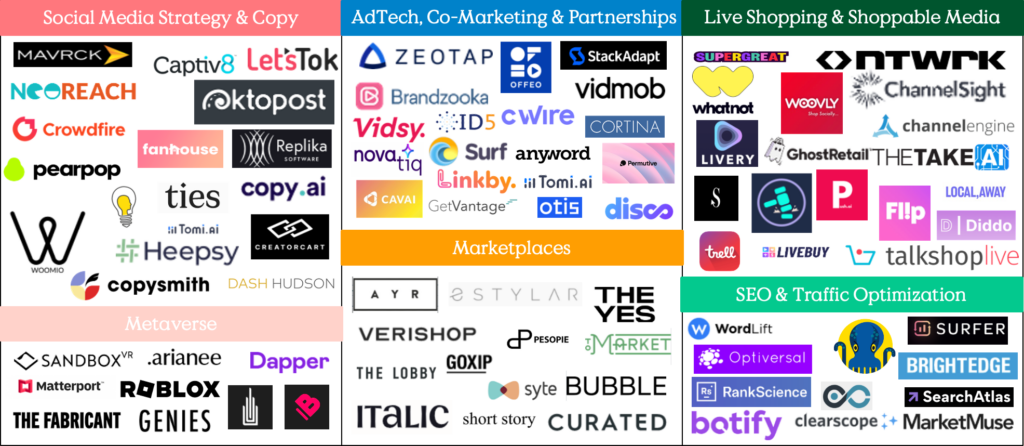 To highlight innovation across discovery tools and platforms, we put together a condensed and non-exhaustive map of solutions and marketplaces available to brands and marketers today.
Based on PitchBook's e-commerce workspace analysis, while commerce enablement has been seeing a decline in VC deals since Q4 2021, there are several verticals that present interesting opportunities and innovation, and in March/April of 2023, on the discovery front, those were: Marketplace enablement; Personalization; Composable commerce; and AI/ ML integration. These directly touch the areas explored in this report.
Unsurprisingly, ecommerce generative AI tools, which have seen a surge in median valuation and deal size since last year, are being monitored closely, with the majority of capital flowing into business/ productivity software and media/ information services. Like other tech trends, the buzzy-ness of generative AI may persist over the coming months, but unlike other tech trends, we predict that even when it subsides and open source models catch up, the importance of these models will remain intact, and will power much of the ecommerce stack.
While we are excited about the power of each tool to propel a business forward, we feel that of the areas explored in the market map, great opportunity lies within the optimization of search (which goes beyond traditional search engines) as well as shoppable media, further discussed below.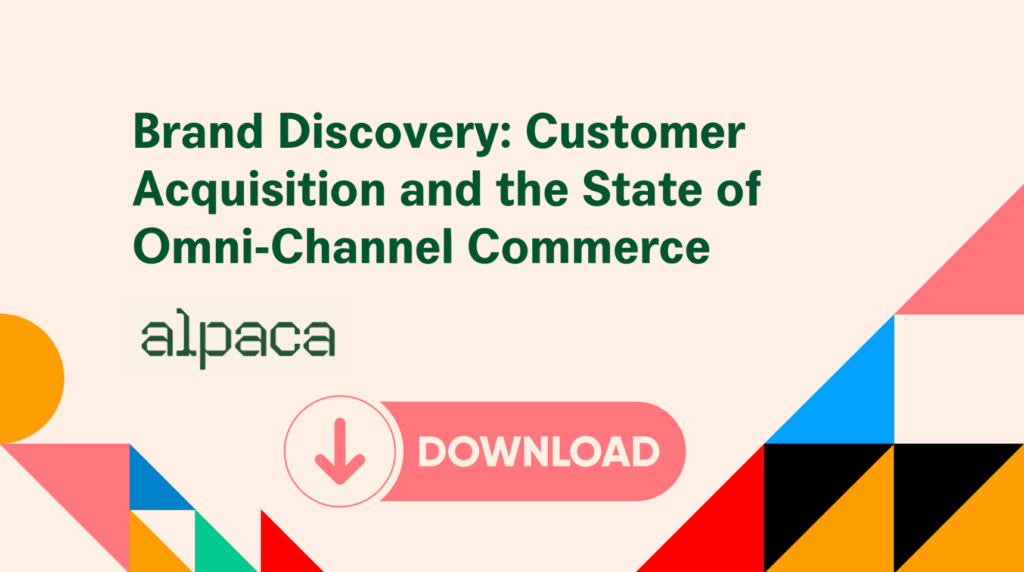 What's Next?
As top of funnel continues to evolve, we believe three areas will experience the greatest shifts and will therefore be the most critical in terms of innovation.
Shop of the future: We are fascinated by, and have experimented first-hand with, the many potential flavors of retail innovation, particularly amid the looming recession which has been driving real estate tension and applying pressure on brick-and-mortar owners. We predict that Gen Z's preference to shop in store will inform next-gen experiential retail and push brands to further integrate online and offline. There is still lots of room for true personalization, and an end-to-end, CRM-based view of the customer cross channel.
Social Commerce: Social commerce's exponential growth is undeniable but there is not yet a clear winner in the US, so the race is still on. We are closely tracking the US TikTok Shop and affiliate launch as a case study for commerce integration, while watching those taking advantage of YouTube Shorts as the next arbitrage opportunity. Regardless of platform, a short discovery-to-purchase journey will gain dominance as a metric of success, making smart feed and commerce enabled content interesting.
AI and Search: AI will increasingly be used to improve discoverability and we are going to see greater integration of front and back-end tools that will help move product more seamlessly:
Chatbot integration as an SEO strategy to increase dwell time and improve site ratings.
AI-powered product tagging will become more mainstream (think: Vue.ai's automated tagging).
AI to improve search accuracy and integrate various types of inputs (think: Nyris)
Real time landing page adjustments based on customer preferences (think: Optiversal).
Inventory management & shoppable media integration: Identifying available inventory and promoting content featuring applicable SKUs.
Video & chatbot integration: Consumer experience to improve with interactive customer service video and shoppable product demos (think: Tolstoy or Siena.cx).
While we do not believe that we uncovered anything earth shattering for our brands and marketers out there, we do believe there is a great deal of nuance to nailing these discovery strategies, which Naomi and team did a fantastic job cataloging in this report. As a firm, Alpaca VC is always motivated to know our investment spaces well, so that when real innovation comes across our desk, we have a point of view on where it's all headed.
We hope you found this insightful and helpful; as former brand builders ourselves, we wish we had access to research like this and so are delighted to share with you.
To keep up with the latest from Alpaca, connect with us on Twitter, Instagram, and LinkedIn @alpacavc, subscribe to our bi-weekly newsletter The Rundown here, or by reaching out directly to [email protected].
Disclaimer:
Alpaca VC Investment Management LLC is a U.S. Securities and Exchange Commission-registered investment adviser. Alpaca VC Investment Management LLC is committed to diversity and inclusion in the workplace. We prohibit discrimination and harassment of any kind based on race, color, sex, religion, sexual orientation, national origin, disability, genetic information, pregnancy, or any other protected characteristic as outlined by federal, state, or local laws.