Investigating the current state and future of global e-commerce supply chains
This post is part of a five-part Field Study by Alpaca exploring the current state of global e-commerce supply chains and the opportunities we see ahead. Use these quick links to read the entire series: Part 1: Global Supply Chains, Part 2: Delivery, Part 3: Cross-Boarder, Part 4: Returns, Part 5: Conclusion.
If I told you that this Field Study was completed over a year ago in May 2021, would you believe that the key takeaways are truer today than they were then?
As I wrote about at the beginning of the year, #supplychainissues are at an all-time high and we are seeing first-hand how fragile our logistics networks are. 11% of goods globally are PHYSICALLY waiting on container ships at port — meaning they are not unloading, nor loading, nor… moving. This stat continues to blow my mind.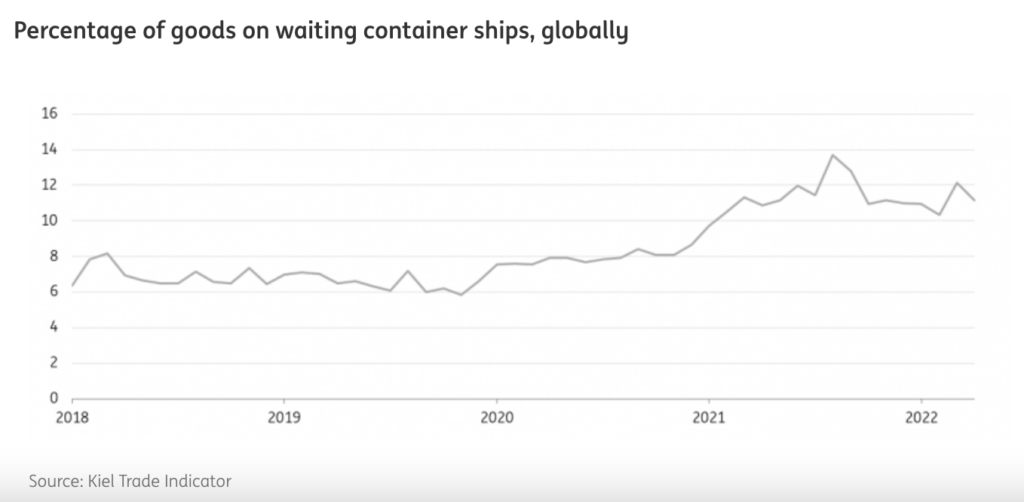 Setting the Stage
In 2020 and 2021, as a result of quarantine, factories as well as retailers cut capacity. Shipping companies assumed there would be a shipping downturn, so they waylaid ships to side line productive capacity. Instead, Chinese shipping lines were re-routed everywhere, full of PPE to places that didn't have lots of goods to ship back (to LatAm, Africa, etc.). So shipping containers sat empty at exotic ports instead of going back to China for more re-filling. Rates sky-rocketed, and delays compounded.
However, as NYT reporter Peter Goodman laid out:
Life didn't stop in pandemic. We outfit homes into offices; entertained children at home for the first time; outfit basements into gyms; which produced a surge of orders for factory goods, most of which are made in China.
And since brick-and-mortar has been in decline for years, we shopped online. In the US, the rise in e-commerce penetration during the first half of 2020 was equal to the last ten years. Global e-commerce sales are expected to hit almost $5 trillion this year.
Today, on top of the mismatch of global cargo routing and rising e-commerce demand, layer the war against Ukraine and the recent Chinese lockdown, and you have a proverbial shit storm leading to not only component, product and labor shortages, but rising inflation.
This is the backdrop for innovation. And as we know, crisis years produce some of the best venture capital vintages. So while we are experiencing one of the most challenging times in global freight, logistics, warehousing, and distribution, we also see opportunity as e-commerce and cross-border trade surge albeit problematically.
The Trendlines
COVID-19 catalyzed a major shift to e-commerce. Accenture predicts a 169% increase in e-commerce purchases post-pandemic, from shoppers who were either new to online shopping or were low-frequency users pre-pandemic. Customers value convenience, lower prices, and better selection and so it's no surprise that divergent types of customers have quickly adopted online shopping.
The pandemic has also made consumers more comfortable experimenting with different types of e-commerce technology, whether it be curbside pick-up, video consultations, social commerce, or livestream shopping.
As Matt Hertz at Second Marathon said to us on a recent Zoom call, "Shopify has democratized what it takes to start a brand online and now it's time for the other side to catch-up. Logistics were built for the B2B or wholesale use-case, not e-commerce."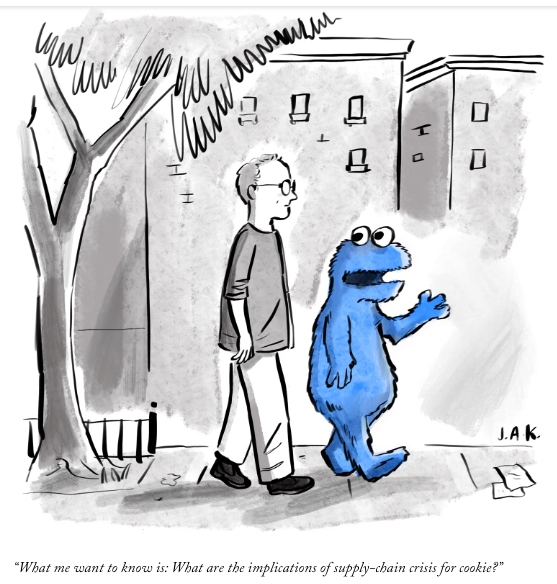 We have noted several well-funded software segments bringing the supply chain into a new era.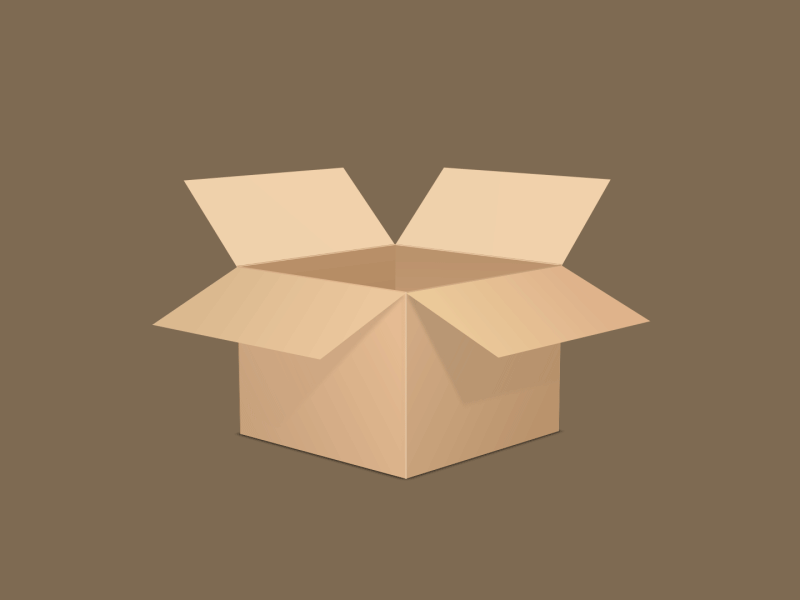 What We're Interested In
What's most interesting to us: technology that touches both the supply chain and the consumer. Why?
Brands are struggling more than ever to find and retain happy customers. In a post cookie/post iOS14 world, brands have focused more on creating loyal, higher LTV customers as advertising dollars to find new ones have become less efficient. But as brands eschew physical sales channels for digital, it becomes harder to ensure a happy customer because the main touch points with the brand shifts from the store to everything that happens after a customer checks out. We believe that in order to win and retain customers, e-commerce players need to deliver a seamless post-purchase experience no matter where the customer is situated globally.
Delivering a seamless e-commerce experience is easier said than done. While the in-store shopping experience is very much under the control of the retailer (nice merchandising, friendly sales associates, easy exchange process), the post-purchase experience for online retailers is not. In e-commerce, the post-purchase experience comprises a fragmented set of players, encompassing everything from the platform payment provider to the last mile delivery courier. This is compounded by the fact that customers have been conditioned by Amazon Prime and have adopted similarly high expectations for all e-commerce players big and small.
There are currently 5300+ businesses on Shopify Plus generating from $1M to $500M+ in sales, plus the long tail of >800,000 non-Shopify Plus brands. Though these brands cannot command the same shipping rates and delivery timelines as big box retailers, these DTC brands have the ability to compete on the premise of brand values, sustainability and local appeal. According to the Shopify eCommerce Market Credibility Study:
47% of the consumers said having a local presence was a significant factor for which brands they shop from

Consumers are 4x more likely to purchase from a company with strong brand values.

A whopping 77% are concerned about the environmental impact of the products they buy.
In order for small to mid-sized brands to win, we see three technological unlocks:
1. Enabling Prime-like delivery for emerging brands
80% of online shoppers want same-day shipping.
Customers have high expectations for fast shipping, but enabling a Prime-like delivery experience is complex and costly. Fast shipping is expensive and brands are typically implicated with absorbing some of the shipping cost.
Efficient fulfillment typically requires nation-wide scale and an extensive network of warehouses/3PLs. These challenges are particularly acute for small brands, who typically opt to offer slower delivery speeds thereby hindering their ability to compete with the big e-commerce players. We see this tension as an interesting opportunity.
2. End-to-end software solutions that enable cross-border sales
More than four in ten online shoppers surveyed in the U.S., UK, Australia, and Germany agreed that shopping more online during the pandemic increased their willingness to consider cross-border e-commerce purchases.
Globalization is another trend that we see impacting the supply chain. As brands look for new ways to grow, international sales are a natural next step. In many cases, the international customer base already has knowledge of a foreign brand, thanks to social media. The issue is that the consumer experience for cross-border e-commerce lags behind the domestic experience. Customs delays, high shipping costs, lack of tracking information, and inefficient returns make delivering a positive international shopping experience a challenge. We think there's white space for companies that enable cross-border sales for emerging brands.
3. End-to-end solutions for e-commerce returns and circularity
80% of e-commerce shoppers will abandon carts for lack of a good return policy.
While the process of online shopping is seamless and highly efficient, the returns process is the opposite. Returning online orders is costly for online retailers and annoying for customers. While there have been some emerging solutions that look to ease the burden, we think that the problem is far from being solved. There is also an opportunity here to think more circularly about returns, which can lead to more sustainable businesses that drive customer satisfaction and better margins long-term.
Next Up
Next, we will discuss the first opportunity we saw in depth: enabling fast delivery. Continue reading Part two in the series here.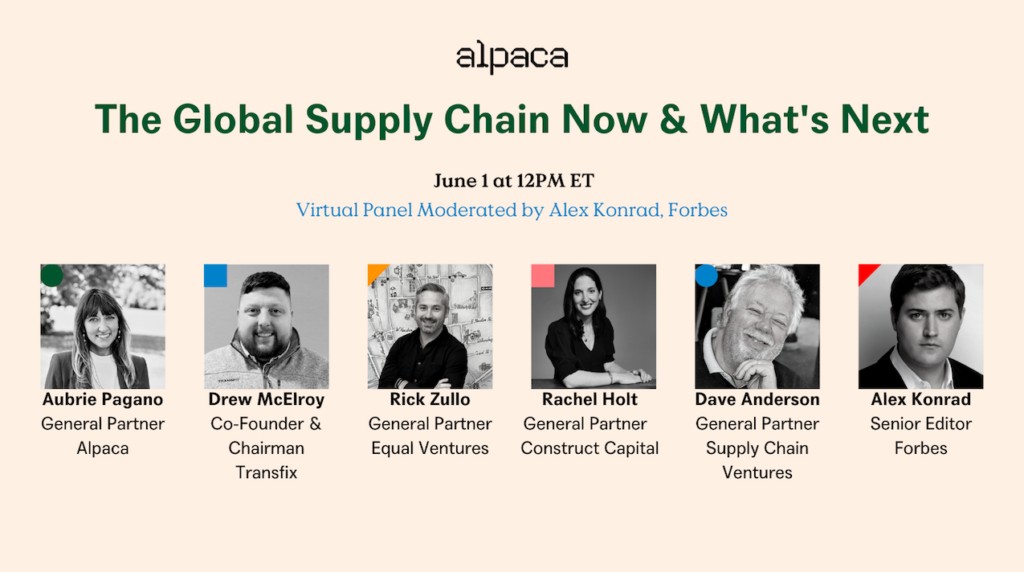 In the meantime, please join us as we continue the conversation Wednesday, June 1st during a panel led by Forbes Senior Editor Alex Konrad on the Now and What's Next for the Global Supply Chain.
To keep up with the latest from Alpaca, connect with us on Twitter, Instagram, and LinkedIn @alpacavc, subscribe to our bi-weekly newsletter The Rundown here, or by reaching out directly to [email protected].
Disclaimer:
Alpaca VC Investment Management LLC is a U.S. Securities and Exchange Commission-registered investment adviser. Alpaca VC Investment Management LLC is committed to diversity and inclusion in the workplace. We prohibit discrimination and harassment of any kind based on race, color, sex, religion, sexual orientation, national origin, disability, genetic information, pregnancy, or any other protected characteristic as outlined by federal, state, or local laws.