Investigating the current and future state of global e-commerce supply chains.
This post is part of a five-part Field Study by Alpaca exploring the current state of global e-commerce supply chains and the opportunities we see ahead. Use these quick links to read the entire series: Part 1: Global Supply Chains, Part 2: Delivery, Part 3: Cross-Boarder, Part 4: Returns, Part 5: Conclusion.
I recently spotted this on Twitter, and I couldn't help but find it fitting for the enormous issue of e-commerce returns:
While e-commerce has many clear benefits over brick-and-mortar (more selection, convenience, price comparison), returns are still a high-friction process for most customers. Online shopping makes it challenging to find the right size, and returns require a printer, lots of packing tape, and/or a trip to a drop-off point.
Almost half of US shoppers will "bracket" their online order — meaning they'll order multiple sizes of the same item to find the right fit. And so the returns start to pile high (see tweet above).
Companies have taken a variety of different approaches to help alleviate the pain of e-commerce returns:
Amazon struck a partnership with UPS and Kohl's to allow orders to be returned in-store
Happy Returns sets up "return bars" in physical stores through partnerships to facilitate returns for DTC brands
Warby Parker and Stitch Fix allow customers to receive more product styles than they intend to keep, so they can try on multiple options at home and keep only what they want.
Similarly, Rent the Runway sends a backup size to customers so they can get the right fit.
Zappos and Nordstroms offer a generous return policy as a way to encourage customer loyalty.
Despite this, returns remain a massive problem. The volume of online returns is extremely costly for brands (due to the time-value of shipping, inspecting, restocking, and selling through items), and customers increasingly expect an easy and seamless returns experience.
The return rate for e-commerce is ~30%, versus ~9% for in-store purchases.

79% of online shoppers won't place an order if it doesn't include free return shipping.
This signals to us a need for more returns solutions.
Why Now?
Returns are an important part of the customer experience for e-commerce, yet remain a point of friction for customers. Consider that 84% of customers believe a good returns experience encourages them to shop at a retailer again, while 74% of shoppers think that US retailers should be doing more to improve the experience of returns.
In our view, a premium returns experience will become the expected norm — the same way that Amazon and Zappos taught the customer to expect 2-day shipping. So, if returns are a critical part of the e-commerce customer experience, then the precipitous rise we've seen in e-commerce over the course of the pandemic means a rise in the number of returns the industry needs to process.
Rise in e-commerce = increase in returns
In 2020, around $102 billion worth of online purchases were returned. E-commerce returns costs are significant and retailers are just waking up to the issue. It's estimated that only 30% of retailers are attempting to quantify the cost of returns and only 23% are using technology to try and address it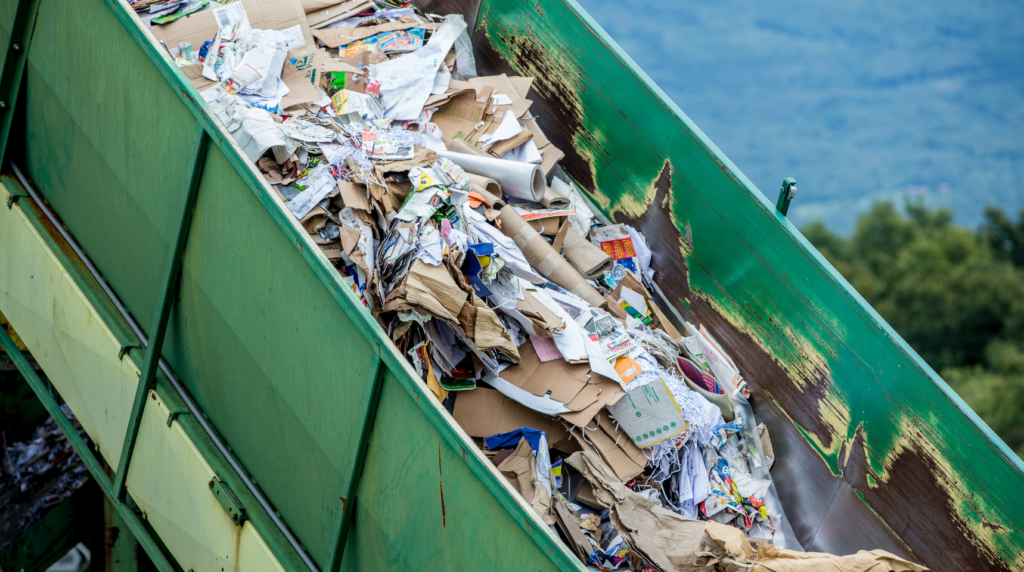 Returns are also extremely wasteful, and sustainability is increasingly important to customers. It's estimated that 25% of returns end up in landfills (!!).
How E-Commerce Returns are Handled
There are three main ways to mitigate e-commerce returns:
Pre-purchase: the number one reason for returns is the size/fit of a product. Technology can help customers make more informed purchase decisions, thereby lowering return rates: Chatbots for shopping assistance, customer reviews on fit, providing the model's sizing information or showing multiple models of different sizes, suggested sizing, AR/VR sizing, fraud technology, etc.
At the point of return: Returns management solutions provide software for customers to facilitate the return, including accessing their order, selecting the items to be returned or exchanged, and determining how the product will be sent back (including printing a shipping label or finding a pickup/ drop-off point in close proximity).
Post-purchase: once a customer has made the decision to return an item, making the process as seamless as possible is key to a return customer. By offering quick refunds, partnerships with brick-and-mortar locations for in-store drop-off, as well as resale and refurbishment options, are great ways to help boost customer loyalty. Not to mention facilitating the sorting and restocking of returns in warehouses, which remains a headache for 3PLs everywhere.
Mapping the Space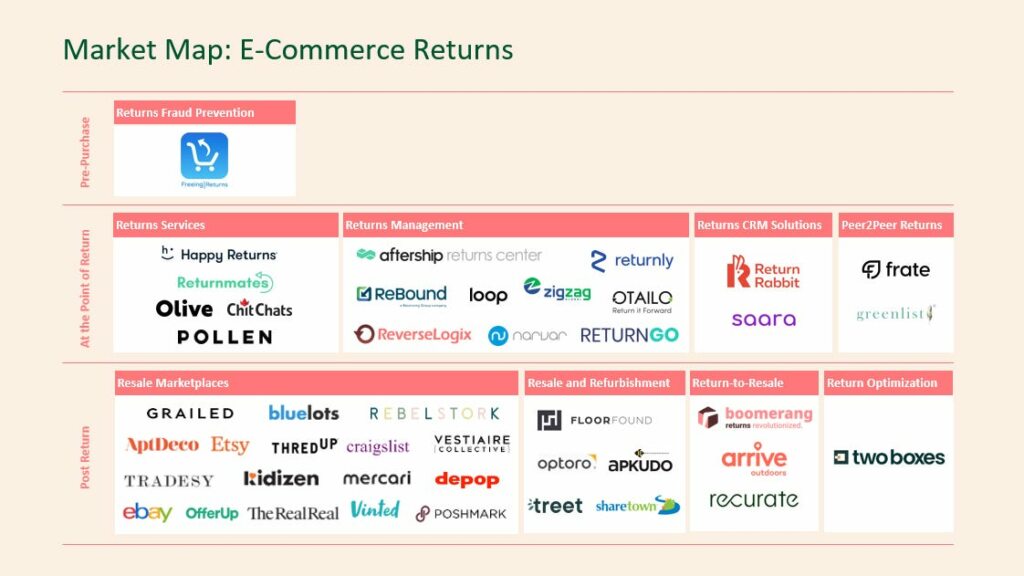 Pre-Return: There are a plethora of startups that are tackling the online purchase experience for customers — whether it be by helping customers make better purchase decisions or providing more product detail. We're most interested in solutions that prevent returns issues before they happen.
One example is Freeing Returns. $7.7 billion or 7.5% of online purchases that are returned are fraudulent. Freeing Returns collects shopper data to detect trends and patterns and prevent fraudulent returns before they happen.
At the point of return: Returns management companies offer software that manages the processing of a return as well as the return shipping. Table stakes features for returns management companies include a branded returns platform, a visual depiction of items to be returned, and the ability to print shipping labels or find where they can drop off their order in-person.
Post-purchase: Sustainability is becoming a bigger focus for shoppers and retailers. Resale marketplaces have seen tremendous growth, and some startups are tapping into this trend, offering reverse logistics that are funded by a resale/refurbishment marketplace.
Floorfound offers reverse logistics for bulky objects (like furniture) as well as a resale platform for returned and refurbished products. Optoro offers returns management, as well as resale software that connects unwanted inventory with buyers on other shopping channels.
Our own portfolio company, Arrive, offers "returns to resale" as a solution, where retailers can intake, grade, and dispose of inventory to the optimal channel (whether that's back to the floor, on their own site, or down cycling).
White space:
From our market research, we've deduced that many of the returns solutions that exist today are point solutions. We see white space for a company to offer features that address the pre-, during-, and post-return problem all-in-one. Loop, Narvar, and Optoro are likely the front-runners there, but we could see some further consolidation happening in the market.
1. BUNDLING: To help optimize e-commerce returns, bundling orders from multiple retailers could be a viable solution. Olive bundles incoming and outgoing e-commerce orders from participating retailers that are headed to a single customer and places the orders in reusable containers. We would be interested to see a software solution that, similar to Olive, bundles orders from a single customer to reduce logistics spend and environmental damage.
2. EXCHANGING: Experimenting with a new brand is challenging because sizing can differ dramatically. The exchange process for online shopping is frustrating — even if you are keeping the product, it can often take a few days to get the correct size into your hands. This is a pain point for time-sensitive cases (a big meeting, party, or soon-approaching vacation). It would be interesting to see emerging solutions that address the exchange process for e-commerce.
LV started traveling to customers during COVID, so they could try on clothes from the comfort of their homes. We could see a similar solution emerge for customers who are in a time-crunch (and likely purchasing luxury brands or pass a high order threshold) and are willing to spend more to have sizes and options brought directly to them, therefore lowering the chance of return.
3. NICHE MARKETS: We previously mentioned Floorfound — which focuses on reverse logistics for a product (furniture), which had unmet needs when it came to the returns process. We're interested in other returns solutions that target a segment that is underserved.
4. RESALE: Resale marketplaces have taken off but a number of companies are looking to move resale in-house or at least closer to their control (versus peer-to-peer selling). Gucci and The Real Real launched a partnership and Anna Sui is using Depop to sell vintage pieces directly to consumer. We'd be interested to see more solutions that help brands launch and manage their own resale and refurbishment platform in-house.
5. ROUTING OPTIMIZATION: Returns are a ticking time bomb. The longer they sit, the more they cost brands and retailers. We are interested in companies helping with the fast and effective disposition of goods, whether that is back to warehouse, to another customer, to a resale network, or to the (euphemistically titled) downcycle market.
As Janet Jackson sang, is that the end?
Coming soon, I will share a conclusion post to this Global E-Commerce Supply Chain Series that will include our outlook in 2023, alongside industry experts.
As always, if you see any interesting companies in this space, please don't hesitate to reach out [email protected]
To keep up with the latest from Alpaca, connect with us on Twitter, Instagram, and LinkedIn @alpacavc, subscribe to our bi-weekly newsletter The Rundown here, or by reaching out directly to [email protected].
Disclaimer:
Alpaca VC Investment Management LLC is a U.S. Securities and Exchange Commission-registered investment adviser. Alpaca VC Investment Management LLC is committed to diversity and inclusion in the workplace. We prohibit discrimination and harassment of any kind based on race, color, sex, religion, sexual orientation, national origin, disability, genetic information, pregnancy, or any other protected characteristic as outlined by federal, state, or local laws.